Reading the Unofficial SAS Weblog with the SAGE RSS Reader in the Firefox Browser
Jack Hamilton, jfh@acm.org
Ted Conway has set up a weblog, or blog, dealing with SAS software. Unlike some previous efforts at establishing alternatives to SAS-L for talking about SAS, this one shows some promise, partly because Ted is an actual SAS user, and partly because there are reasonable tools for dealing with weblogs.
The weblog is at http://sas.weblogsinc.com.
For an overview of weblogs from How Stuff Works, see http://computer.howstuffworks.com/blog.htm/printable. For an overview of their RSS feed, see http://www.howstuffworks.com/rss-feeds.htm/printable.
I use Mozilla Firefox as my primary home browser; this web page describes how to set up Firefox 1.0 to use the SAGE RSS feed for the Unofficial SAS Weblog. It's quite possible that similar tools exist for Internet Explorer, but since that's not what I use I haven't investigated them.
By the way, when I say that this weblog shows some promise, I don't mean to downplay the usefulness of individual web sites such as Charles Patridge's SCONSIG, http://www.sconsig.com/, Roland Rashleigh-Berry's collection of macros at http://www.datasavantconsulting.com/roland/, or Lex Jansen's SUGI paper search page, http://www.lexjansen.com/sugi/index.htm, to name just a few excellent examples. These pages don't really have the same purpose or structure as a blog. By the way, there's a list of well-known pages at the weblogsinc site discussed in this paper.
Weblog versus RSS
A weblog is just a web page, generally with periodic entries (daily, weekly, or irregular), and with the possibility of readers adding comments. To know when a web page has changed, you have to look at it (or have a program look at it on your behalf - Internet Explorer will do so, for example).
RSS (Really Simple Syndication) is a way receiving notifications of web page updates. After you receive the notification, you know to visit the web page to see the entire new entry.
RSS is new, and is not nearly as well or universally supported as HTML. Not all web pages, or even all blogs, support RSS, but the Unofficial SAS Weblog does.
Installing Firefox
Firefox is an open source browser distributed by the Mozilla Foundation, which came out of the wreckage of Netscape. It is widely believed to be a more advanced browser, with better security features, than Microsoft Internet Explorer. It's available for Windows, Mac OS X, and Linus x686.
You can download Firefox from http://www.mozilla.org/products/firefox/.
The default installation of Firefox gives you a screen similar to this:
Installing Extensions
To receive RSS notifications in Firefox, you will need to install an RSS extension (similar in concept to a plugin - plugins are used to read PDF and Flash files, for example). The extension I've chosen to use is SAGE, but others are available for you to try.
To get a list of extensions for Firefox, click on the menu item Tools, then on Extensions: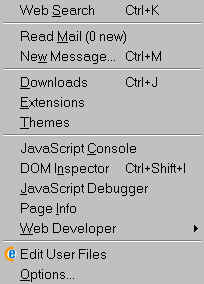 .
That will bring up a list of currently installed extensions; as you can see, I have already installed a few:
Click on Get More Extensions in the bottom right-hand corner of this window. You will then see a web page listing many extensions available for Firefox. Scroll down until you see News Reading: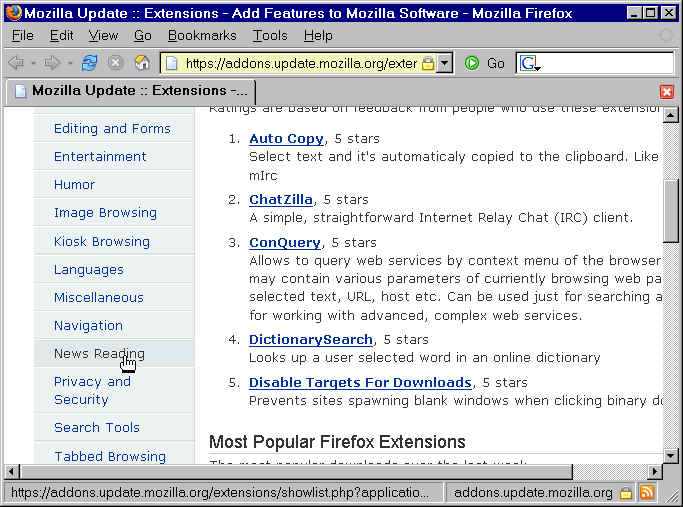 Click on News Reading, and a list of extensions for reading RSS will appear. Scroll down until SAGE appears (after more readers become available, you might have to go to the second page of extensions):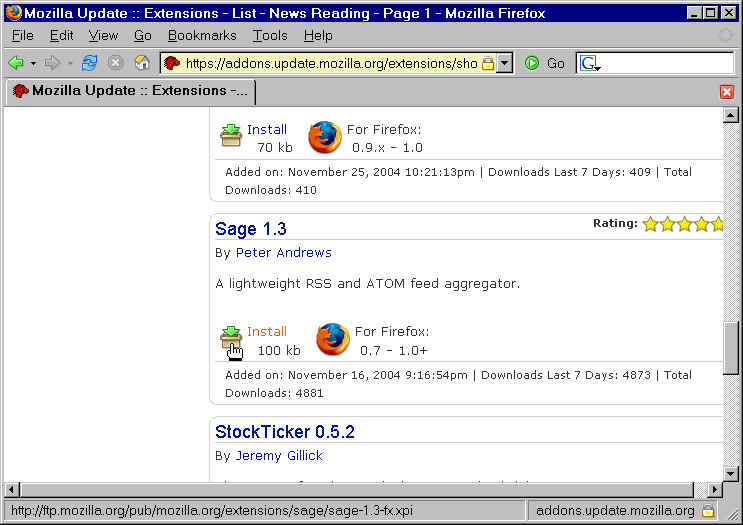 Click on Install, and you will be asked for permission to install a new application:
Click on Install Now. After the installation has completed, you will see the extensions page again, with your new extension included:
As the page says, you must now close Firefox (all open windows, not just the current one) and restart it.
A Security Digression
Instead of seeing the permission prompt, you might see something like this appear at the top of the browser display areas: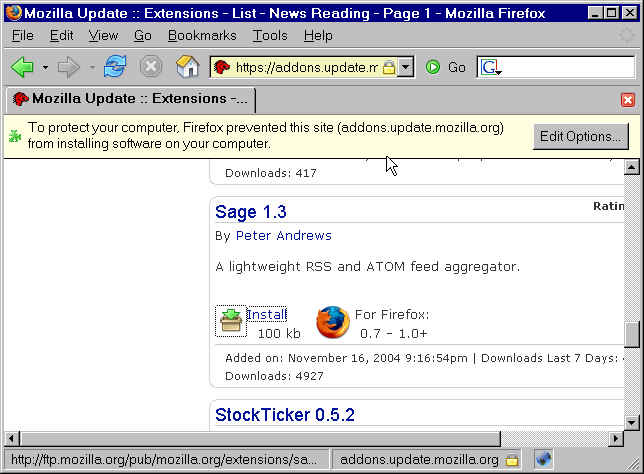 Click on Edit Options..., and you will see a site of sites allowed to installed Firefox extensions:
The address of the site which is trying to install software will be in the top text entry box. Click on Allow to move it to the allowed list, then on OK to close the window.
Configuring SAGE to read the weblog
Start Firefox and click on the Tools menu item. You will see a new entry for SAGE:
Click on SAGE, and the SAGE sidebar will appear: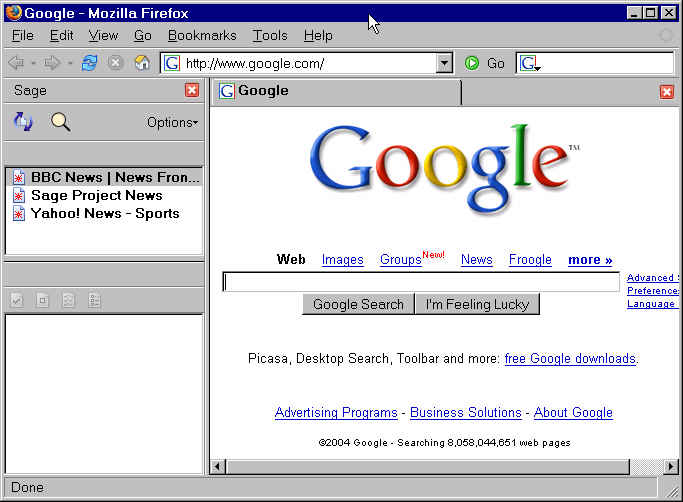 A few supposedly popular entries are installed by default. You want to add a new entry for the Unofficial SAS Weblog. Type its address in the address bar and press Enter to bring up the main page:
To add the SAGE feed to the sidebar, click on the magnifying glass:
If there's an RSS feed in the current webpage (which there is in this case), it will be displayed so you can approve adding it:
Click on Add Feed, then on Close. After clicking on Add Feed, the web site name will appear in the SAGE sidebar:
Next, remove the unwanted Yahoo! Sports feed by right clicking on its name and selecting Delete:
Now you have the feeds you want. Click on the entry for the Unofficial SAS Weblog:
A list of items will appear in the sidebar, with unread items in bold, and the main window will show a different view of the web page:
If you move the cursor over an item and pause, part of the test of the item will appear, so you don't have to open it to see whether it might interest you:
If you've already read all the items by going to the main page, you can mark them all as read by right-clicking on an item and selecting Mark All as Read:
Now, if you revisit the sidebar occasionally, you will be able to see whether new items have been added - they'll be in bold. Unfortunately, you can't tell whether new comments have been added to existing items.
A Flash-based tutorial on using SAGE with a slightly older version of Firefox on the Mac is available at http://www.programwitch.com/Flash/sage/sage.html. Most of the information is applicable to the current version on Windows as well.
A Possible Future Enhancement
There's another Firefox extension, InfoRSS, which will but a message in the Status Bar notifying you when new items have appeared. Unfortunately, although this works for the BBC page, it doesn't work for the Unofficial SAS Weblog.
This would make checking for SAS items much easier. I suppose they'll upgrade the site to support this someday.
Other Extensions
There are lots of extensions available for Firefox. This screenshot shows a few I use:
The ForecastFox extensions puts local weather information, updated frequently, into the otherwise unused space on the right side of the menu bar. The GoogleBar makes it easier to search Google. The Bookmarks toolbar provides single-click access to my most commonly visited sites.
Another Viewing Option - Live Bookmarks
Another option for reading the Unofficial SAS Weblog in Firefox is Live Bookmarks. Live Bookmarks are a dynamic version of regular bookmarks - instead of fixed bookmarks being stored on your hard drive, a feed is used to update the bookmarks when necessary.
If Live Bookmarks are available for a page, a small orange symbol will appear in the bottom right hand corner of the browser. When you click on the symbol, you will be asked if you want to create Live Bookmarks: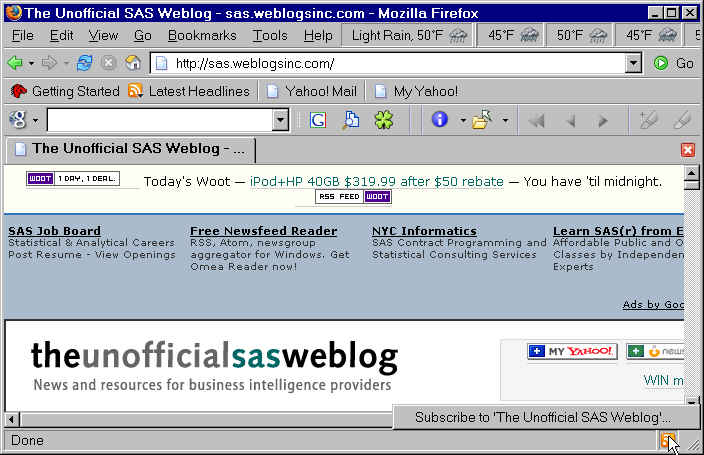 If you click on the box, you will be prompted for the location where the bookmarks are to appear:
Bookmarks then appear in your Bookmarks menu: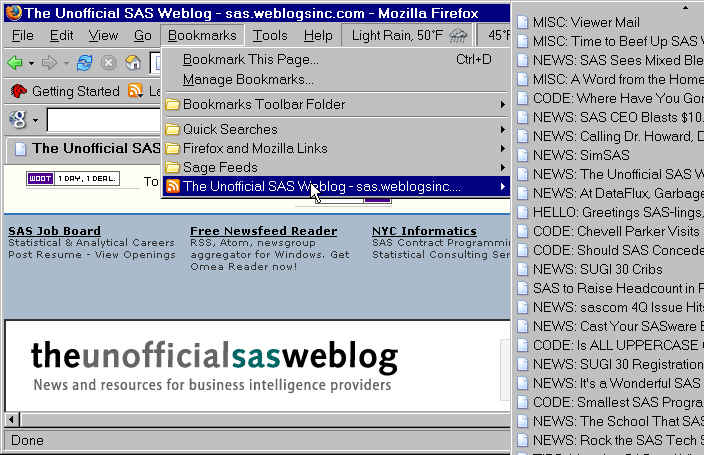 One Final Alternative - Yahoo! News
There's one final alternative to consider. If you use http://my.yahoo.com to get your news fix, you can click on the "+ My Yahoo!" graphic in the weblog to add a new section to your Yahoo! News. Unfortunately, it shows only a few items. This works for both Internet Explorer and Firefox.
For Internet Explorer Users
Pluck, a plug-in for Internet Explorer from http://www.pluck.com/ has gotten good reviews. I have not used it extensively, but it appears to have more features than SAGE, and is consequently more difficult to understand and configure.